Here's what people are searching for right now in Encyclopedia:
More...
Popular articles in the Columbia encyclopedia:
Computer Desktop Encyclopedia
Computer Desktop Encyclopedia -- premier source for computer concepts and terminology. Updated quarterly, this powerful, authoritative reference about the computer industry has been heralded by PC Magazine, Government Technology Magazine and others as the best online reference source of its type.
The Computer Desktop Encyclopedia offers more than 18,000 definitions covering all aspects of computers and digital technology. In addition to the library of definitions, the resource also includes explanations of fundamental technology concepts, informative historical content, biographies, company backgrounders and more. Phonetic entries allow users to source definitions for "scuzzy" (SCSI), "gooey" (GUI) and "voyp" (VoIP), while over 2,500 illustrations, photos and charts provide additional insight.
Featured article:
UPS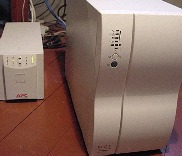 (
U
ninterruptible
P
ower
S
upply) A device that provides battery backup when the electrical power fails or drops to an unacceptable voltage level. Small UPS systems provide power for a few minutes; enough to power down the computer in an orderly manner, while larger systems have enough battery for several hours. In mission critical datacenters, UPS systems are used for just a few minutes until electrical generators take over.
UPS systems can be set up to alert file servers to shut down in an orderly manner when an outage has occurred, and the batteries are running out.
More...
Other popular articles in the computing dictionary: